How To Clean a Cast Iron Skillet
Here's the trick to cleaning cast iron and building up your pan's seasoning… don't use soap.
Another thing that's not so great for cast iron… soaking it in water.
Water + Iron = Rust.
To build up a non-stick layer of seasoning you need to scrub off food while leaving the oils from whatever you just cooked.
The best thing you can do to improve your pan's seasoning is to fry food in it.
When fat and oils are heated to frying temperatures they bond with cast iron to create a non-stick layer seasoning.
So how do you clean your pan without using soap that will strip off the oils that just bonded to your pan?
You need a chainmail scrubber!
The little rings are perfect for scraping off stuck-on food without scratching up your pans.  Plus it's made out of stainless steel so it's dishwasher safe and won't rust.
Customer Reviews
Write a Review
Ask a Question
Filter Reviews:
scrubber
grease
cast iron pan
gunk
pans
awhile
bowl
water
dishwasher
brush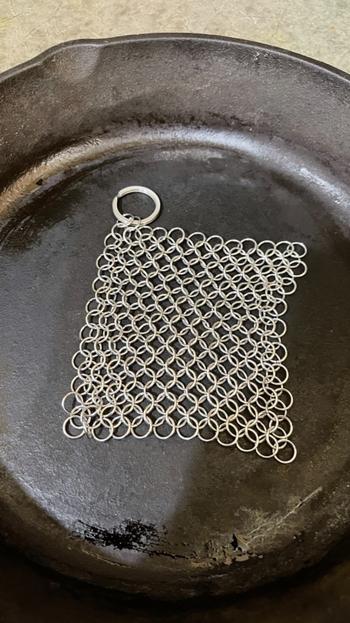 02/21/2021
Little but most useful
I need to try hard to remove grease out of my cast iron pan and this little scrubber is very useful for this now. Loved it
Kavi

US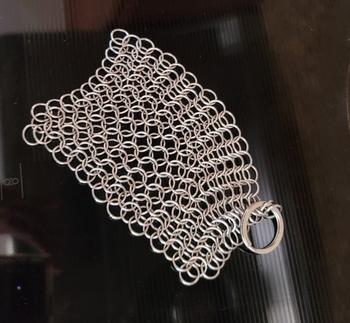 02/18/2021
Love it
I love using this on all my pots and pans. It easily gets the gunk off without scratching or rusting. It is also easy to clean and reuse.
Mandy

United States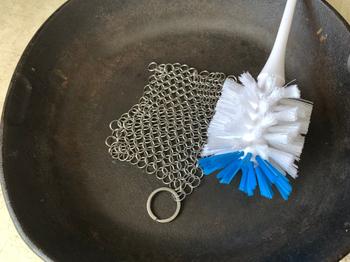 02/14/2021
Great product
I got this awhile ago and the one thing that is the best is that it was sitting in a some water in a bowl for a long time. I had it under the sink so didn't notice as I haven't used my cast iron in awhile. It was not rusty at all! Get the scrub brush as suggested and you are good to go!
Jennifer W.

United States
02/13/2021
Works great!
This works great! Love that it's reusable and dishwasher safe too! Definitely get a brush to use with it because that will definitely make it do a better job!
Jamie C.

US
02/08/2021
Amazing Cleaning Tool
I am having a hard time cleaning my cast iron skillet until I saw this and try and it's all worth it. I want to get one for my mom also. Thank you for the good creation and fast delivery.
Yoh B.

United States
02/04/2021
Bought two for my friends being they were so impressed with my cast iron pots, and skillets. Your product is fantastic, thank you.
I have been using them for many years and I love them.
Jeannette M.

US
01/26/2021
Bought as a gift
The purchasing and shipping was all fine. The item arrived in a timely manner.
Victoria H.

US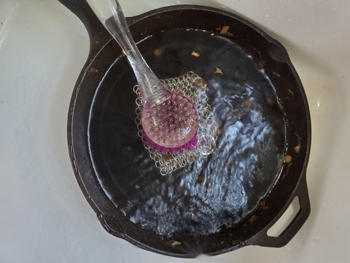 01/23/2021
A must-have for cast iron cooks
I used to dread having to scrub out the skillet. Now it is literally a couple quick swipes and it is good to go!
Jade C.

United States