Watch your kids imagination come to life with a beautiful apron that's just their size!
My son Timmy came up with the idea to make cute kid sized cooking aprons with matching chef hats.
We launched our first batch of aprons on Amazon in 2019 and they were a huge hit! Customers started sending in hundreds of photos and leaving 5-star reviews — it was incredible.
I love to see all the happy faces in the photos you send in. Make sure to check Amazon first before you buy as they sometimes have promos and better pricing.
You're going to have so much fun baking and cooking your family recipes together! WARNING – MAKE SURE TO BUY ONE FOR EACH CHILD – Kids may not want to share with siblings so please buy accordingly.
Thanks for checking out my product!
Kirsten
Customer Reviews
05/26/2021
Virnika S.

United States
Cooking without messing
These are water resistant and easy to wash - and keep my kid from staining her school clothes or having to change clothes to help with dinner. I also liked the print. It's hard to find aprons that are gender neutral or for boys, which is annoying. But this apron does its job perfectly.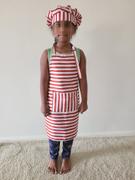 04/08/2021
Chanel C.

United States
04/08/2021
Kelly R.

United States
03/30/2021
Krysteena

United States
Kids love it
Great apron and chefs hat. Repels messes and cleans up easy. Fast shipping and a quality product.
03/29/2021
Tomi F.

United States
03/29/2021
Monica M.

United States
03/29/2021
Kayleigh O.

United States
03/28/2021
Rebecca R.

United States